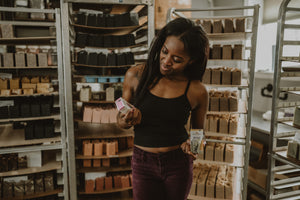 RINSE THE DIRT & GRIME FROM YOUR LAST TREK AWAY
The best soap ever!
This soap is fantastic! Bought it at the Boulder Firefly Market and it's the best smelling soap and absolutely nails the pine smell. Feels like I'm hiking through the mountains! I'm obsessed and can't wait to buy more for my family and friends for the holidays!
Best smelling soaps!
Basically the title. We are hooked and love every single soap she makes.
Best Scent Ever
I purchased at a market this summer and hands down the best soap! It's smooth and moisturizing and the scent is my favorite. I've even gotten compliments on how good it smells on my skin! :) definitely buying more and for holiday gifts!
The only soap I've ever actually sought out
Up until now soap had never been much more than an after thought for me. 1 minute in the grocery store smelling the few brands then pick one. But then I tried this scent out hoping the smell would last longer than the first few washes... Well, contrary to the previous review, it absolutely did last and is still lasting. In addition to the incredible smell it's got a natural exfoliant in it to boot! I loved the pine smell so much I got the hand lotion as well! And here I am about to run out of soap and it's sold out! What will I do?!
Love this product !
My family tried this product ( me: the apple whipping cream)& my kids: (soaps) and loved the smells and quality of the product. My son loved his soap so much he asked for more for Christmas! This will be a regular purchase for us!
Hi Claire! Thanks for sharing your thoughts on our products, we love to hear about your experiences. We're so glad to hear that you and your family love our products! Thank you.
Keeps skin soft
Lathers up nicely and keeps my hands from dying out.
My Favorite!
I love love love this scent. It has a slightly masc. smell to me, which I really enjoy. So far, this is my favorite. Although, the Crag, is a close second.
Thank you, Pamela! The 14er is one of our favorites too!
Wonderful Soap and amazing scents!
Absolutely love this scent! Smells so calming and nice. Using it is amazing as well! Love this soap and all of them!
Hi Cindy, thank you so much for taking the time to write us a review! We're stoked to hear that you enjoy our products!
Smell fills the room
I came across this soap at a local farmer's market and fell in love. The amazing scent fills the whole bathroom. I gave it to family and friends for the holidays as a gift. Amazing product!
Hi Ashley!
Thanks for taking the time to write us a review! We're so glad you love our products!
Best soap EVER!!
14er is my all time favorite! My sensitive skin loves it. The scent is amazing; I love the way it lingers on my skin after a shower. I bought a bar for everyone in my family!
Hi Kisa! Thank you, I'm so glad to hear that you're enjoying the 14er soap! It's one of my favorites too!
Just Awesome
I picked up the first Rosemary Mint balm at the New Mexico state fair in September 2022. I liked the way it smelled. I used it all through the winter, which is very cold and dry here. It was wonderful. It was long lasting, my lips never chapped, and there was no split lip. I bought some more, so I could have one in my purse and a back-up. This balm is so much better than the offerings from the drug store. I am a customer for life!
Lip Balm
My daughter bought me this lip balm while she was in New Mexico. Worked great and I have reordered 2 more tubes.
Immediate Relief
While in Colorado for a week, the day before leaving my lips were on fire. I had so many chap sticks in my purse tgat was not helping and I come across a booth where they were selling this chap stick.immediate relief and have been buying this since! Good stuff!
Teresa,
Thank you for your continued support! We're glad that you've been enjoying our lip balm :)
Continental Divide | Hand & Body Soap
Definitely my favorite! Had to stock up :)
Britta,
Thank you for taking time to write us a review! We are so happy that you are enjoying the Continental Divide Soap!
I sniff my soap
I have this in my bathroom and I pick it up and sniff it when I walk by.
I bought this at Keystone's Bacon and Bourbon festival, in the pouring rain. Besides smelling really good, the texture is amazing. I don't feel all dried out after using it.
Hi Marian,
Thank you for taking time to write us a kind review. We're glad to hear that you're enjoying the scent of your soaps! Yay!
Thank you, Michele. We're so glad you enjoy the soap!
Adventurist Soap Co. is more than just a soap company. We offer a variety of high-quality, natural lifestyle products that are inspired by the great outdoors. From body butters and lip balms to soap-saver pouches and beard care goods, each product is crafted with care and a passion for adventure. Whether you're exploring a mountain trail or lounging on the beach, Adventurist Soap Co. has something to enhance your experience and remind you of the beauty of nature.
Hear what fellow Adventurist's are saying!
I love being a dirtbag but this spray is EVERYTHING. Now I can smell good when going into town after a long day or weekend in the woods!

Megan
I've been searching for soap for sensitive skin without perfume additives. Finally found it and LOVE it. Basecamp is wonderful. In fact, have referred to my daughter in California and she loves it too.

Lorelei
14er is my all-time favorite! My sensitive skin loves it. The scent is amazing; I love the way it lingers on my skin after a shower. I bought a bar for everyone in my family!

Kisa